May 2015
Palisade Investment Partners, who manages a 23 per cent ownership interest in Darwin International Airport, announces the completion of the new Terminal Expansion Project which was formally opened on 9 May by Prime Minister, the Hon Tony Abbott.
The opening ceremony was attended by Palisade's executives, the Northern Territory Chief Minister, Darwin Airport Chief Executive and senior executives from the airport's major airline customers.
The $75m terminal expansion project was completed on time and on budget as part of a major capital expenditure program that saw in excess of $100m invested in core aeronautical infrastructure which included major upgrades to the runways, apron and airside lighting.
Ian Kew, Darwin Airport Chief Executive, said "The expanded terminal will help the Territory to continue its growth and realise its full potential. The project is a demonstration of our shareholders' long term confidence in and commitment to the Northern Territory."
Julian Widdup, Investment Director at Palisade Investment Partners, said "The new terminal building has been developed to future proof the airport. The world class terminal is designed to serve the needs of our airline customers and growing passenger base. We are pleased to be able facilitate this investment through our ownership in the airport."
Darwin Airport's terminal expansion is the biggest project undertaken since the previous terminal opened in 1991. The new 27,000 square metre terminal building is almost double the previous size and includes an expanded arrivals and departures area, four new domestic and two new international boarding gates, additional security screening areas, larger check-in areas and a new multi-use baggage reclaim area for both domestic and international arrivals. The terminal also includes new Qantas and Virgin Australia lounges, and improved retail facilities.
Darwin International Airport's New Terminal Building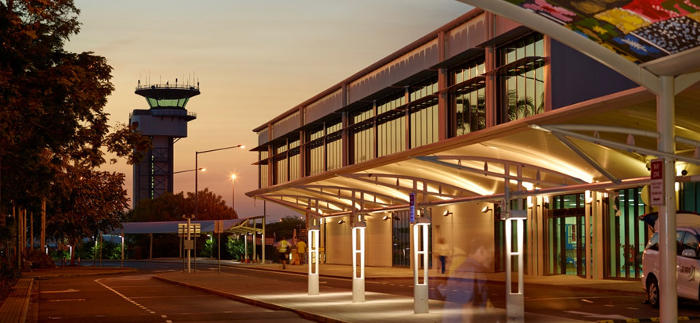 About Darwin International Airport
Darwin Airport has been one of the fastest growing airports in Australia since 1998 when it was privatised by the Australian Government.
Darwin International Airport's ultimate holding company, Airport Development Group (ADG), also owns 100% of Alice Springs Airport and Tennant Creek Airport. ADG employs over 80 full-time employees and contract many other personnel to provide key airport services. Together with our airline customers, ADG handles 3 million arriving, departing and transit passengers, and the combination of all of the on airport and off-airport support businesses contribute 2% of the Gross State Product of the Northern Territory.