February 2017
Palisade Investment Partners Limited (Palisade) has entered into a binding agreement for a 99-year lease of Sunshine Coast Airport (SCA) from the Sunshine Coast Regional Council (Council) for $82m.
SCA was the fastest growing airport in Australia for the FY 2016 by scheduled passenger volumes, and sits at the centre of one of Australia's most dynamic regions. The Sunshine Coast is forecast to achieve population growth significantly above the national average, according to the Australian Bureau of Statistics, along with robust economic growth.
"We are very excited about this investment, which expands our decade-long involvement in the regional airport sector through investments in the Darwin, Alice Springs and Tennant Creek airports," said Palisade Managing Director & CEO Roger Lloyd. "We intend forging a long-term partnership with Sunshine Coast Regional Council to enhance the value of this strategic Australian infrastructure asset."
Palisade has also made arrangements with Council for the construction of a new 2.45km runway, apron expansion and related infrastructure, in return for a fixed payment from Palisade of $290m following project completion. The runway project will reduce operational constraints at the airport, facilitate new route opportunities, increased passenger growth and economic development of the region by providing capacity to accommodate larger, more fuel-efficient aircraft and enabling more direct flights.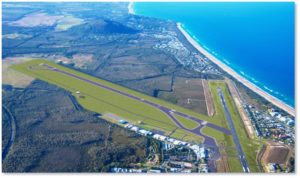 Existing runway (right) and artist's impression of the new runway (left) 
"I am also delighted to announce that Dennis Chant has been appointed to assist in the transition of SCA into private ownership and ongoing governance of the business," said Mr Lloyd. "Dennis is the former CEO of Queensland Airports Limited, and is one of Australia's most experienced regional airport managers through his role in growing Gold Coast, Townsville and other regional airports."
The SCA transaction will be funded through equity commitments from Palisade's Diversified Infrastructure Fund (PDIF), together with investments from two of Palisade's institutional clients, LGIAsuper and VicSuper. PDIF has generated total gross returns of 14.3% pa over the five years to 31 December 2016.
Palisade will be actively seeking opportunities to deploy further capital into the Airport precinct and the broader Sunshine Coast region.
Gresham Partners and Gilbert & Tobin acted for Palisade as financial and legal advisers respectively.
About Palisade Investment Partners
Palisade is a specialist Australian infrastructure manager. It focuses on investing in mid-market infrastructure, minimising competitive pressure on asset prices, and taking advantage of a strong economy with a robust regulatory and governance regime with strong growth as part of the Asian economy.
FUM and commitments managed by Palisade have grown from $700m in 2012 to $2.3bn at 31 December 2016.
The SCA transaction continues Palisade's 10+ year involvement in the regional airport sector, through its successful investment in the Darwin, Alice Springs and Tennant Creek airports.
It follows Palisade's investment activity over the past year, which has included:

acquiring an interest in the Gold Coast University Hospital and Private Hospital Car Parks project;
investing in the Gold Coast Light Rail Stage 2 expansion project and acquiring a further 2.1% equity stake in Stage 1;
acquiring a 50% interest in the 142MW Ross River Solar Farm development project underpinned by a long-term power purchase agreement.
About LGIAsuper
LGIAsuper is the super fund for current and former Queensland local government employees and their spouses, and looks after over $10 billion in retirement savings for 85,000 members. LGIAsuper will soon welcome others in the community to join the fund for the very first time in its 52 year history.
About VicSuper
VicSuper is a $17 billion superannuation fund that is open to the public. It has over 239,000 members and 22,000 participating employers.