March 2015
Palisade Investment Partners has acquired an additional 19 per cent ownership interest in the 111MW Waterloo Wind Farm, taking its total ownership to 74 per cent. Palisade's co-investor, Canadian group Northleaf Capital Partners, owns the remaining 26 per cent of the asset.
The Waterloo Wind Farm sells 100% of its power generation to EnergyAustralia and Hydro Tasmania under long term electricity off take agreements. EnergyAustralia will continue to operate the wind farm and provide asset management services including engagement with the local community and key stakeholders.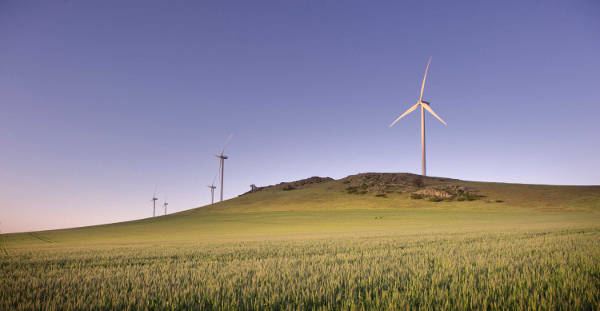 This is Palisade's fifth investment in the energy sector and complements its existing investments in other renewable energy, conventional power and pipeline assets. The asset has generated an annualised return in excess of 12% since Palisade's original acquisition from EnergyAustralia in H1 2013.
Daniel Roberts, Investment Director at Palisade Investment Partners, said Waterloo Wind Farm represents an attractive opportunity for its investors.
"Waterloo Wind Farm has performed well since acquisition and continues to provide stable, long term investment returns. Its environmental and social attributes are consistent with the ESG principles that we expect from all our infrastructure assets. Palisade Investment Partners is a signatory to the UN Principles for Responsible Investment and we have a strong focus on optimising investment returns and minimising risk."
Palisade's Diversified Infrastructure Fund, which holds a significant interest in the Waterloo Wind Farm, has generated returned 14.2% pa over the past 3 years and 11.8% pa over the past 5 years.
About Waterloo Wind Farm
The 111MW Waterloo Wind Farm, located in South Australia, has been in operation since October 2010 and has a 25-year expected lifespan. The wind farm has 37 Vestas V90 turbines that generate enough clean energy to supply electricity to more than 50,000 homes and to reduce greenhouse gas emissions by 335,000 tonnes annually.
The Waterloo 2 project has development approval from the Clare and Gilbert Valley Council. The proposal to add six more turbines to the existing Waterloo Wind Farm would supply enough renewable energy to power a further 7,516 households a year.