Our focus is Australian and North American infrastructure.
We focus on investment in mid-market infrastructure investments, minimising competitive pressure on asset prices. Investment across economic, contracted and regulated infrastructure assets can deliver robust and strong cashflows and capital growth if assets are managed actively. Unique business and financial fundamentals must exist to ensure infrastructure delivers appropriate risk adjusted returns to investors.
"Assets providing essential facilities and services necessary for the efficient functioning of economies"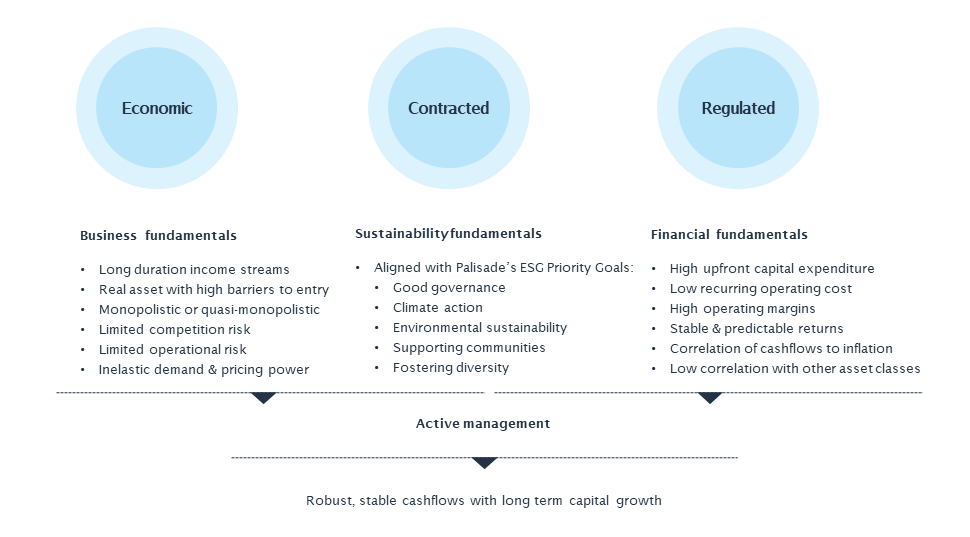 Palisade uses a proprietary portfolio construction and risk management framework to deliver long term, sustainable returns for investors.
RESPONSIBLE INVESTMENT
Palisade's philosophy is to deliver secure long term returns, aligned with the interests of its investors and the community.  Palisade recognises its duty to behave responsibly in its business activities and towards those whom its actions affect.
As an investment manager, we believe that a high standard of business conduct as well as a responsible approach to social, environmental and ethical issues makes good business sense and is more likely to create sustainable value over the long term.  Conversely, poor management of those issues may pose a risk to the reputation and value of businesses.
We consider long term environmental, social and governance (ESG) factors in making investment decisions and in actively managing investments, encouraging better management of ESG factors and associated risks.  Assets exhibiting strong ESG credentials are key to the alignment of the interests and objectives of investors with those of the communities which the assets in which we invest serve.

Palisade is a signatory to the United Nations Principles for Responsible Investment (PRI) representing a commitment to take environmental, social and governance factors into account in our investment decision-making and management practices.