Solar 'gold rush' to Australia.
October 10, 2017
Roger Lloyd, Managing Director, Palisade Investment Partners Limited, says Australia is in the middle of a solar gold rush. Developers from Europe and the US and equipment makers from China are rushing to build and invest here.
He says 70 percent of investors overseas see Australia as the most attractive place to invest in renewables.
He says Australia has an advantage over other markets which have invested more per capita in solar despite much lower levels of solar irradiance. Germany has the highest per capita capacity solar generation base but it has Tasmania's level of solar irradiance.
China has installed huge solar infrastructure but the areas of high irradiance are miles away from big cities making them less efficient.
Lloyd says that a 40-square kilometre solar panel grid could power all Australia's needs. He says China already has a 27-square kilometre array.
He say that projects now under construction can meet only 80 percent of the renewable energy target of 33,000 giga watt hours by 2030.  He expects solar will supply a lot of the final 20 percent.
He says that without a Clean Energy Target or some similar price signal on carbon emissions the gold rush might not eventuate. He said it was hard to sell off-take agreements from solar plants beyond 2030 when the RET expires. "We want to see something that will take us beyond 2030," Mr Lloyd said.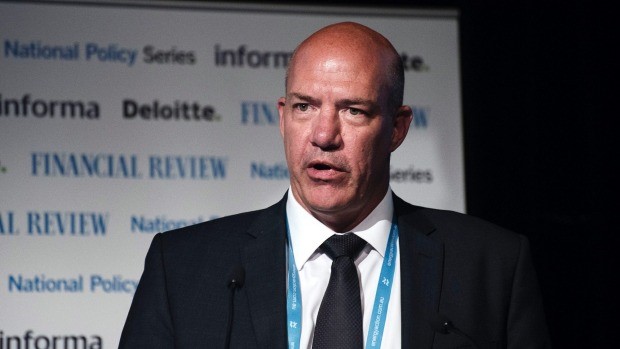 Roger Lloyd says solar can't thrive without a clean energy target.
Read more http://www.afr.com/business/energy/afr-energy-summit-day-2-frank-calabria-mick-mccormack-jennifer-westacott-paul-broad-20171009-gyxfq0#1026134525